First of its kind
Driven by hydrostatic traction and mechanical gearboxes is the last expression in the control and efficiency of movements.
Each of our stacker is made to be transported by standard means. Assembled at our factory, tested, disassembled in parts, transported with containers or commercial trucks and finally reassembled by the customer. Advantage of reducing transport times and costs compared to other similar machines.
---
Access to components is facilitated in a way to permit the easy replacement or repair at lower cost.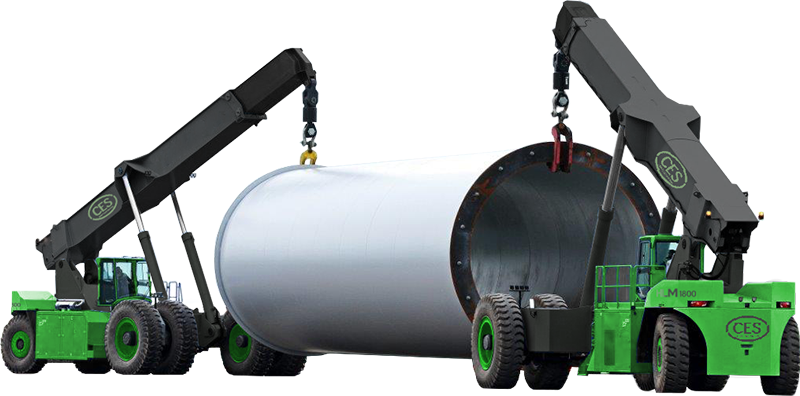 Reach stacker specifications
Wide application and handling possibilities
Our lifting machines differ according to the type of load to be handled and the required lifting capacity. We can apply various lifting systems, from container spreader and piggy back, electromagnet, hook to special systems according to customers needs and load type. One of the features of our Reach stackers is fluidity in movement, which is only possible with a hydrostatic traction system. This continuity allows the machine to lift, move and position any type of load with extreme precision. The variable displacement hydraulic pumps mounted on the engine and controlled by dedicated software, guarantee continuity of flow and pressure to all peripherals. In case of simultaneous use, the system regulates the number of revolutions of the engine, the power of the pumps and ensures continuity in movements.
Great lifting capacities
Lifting capacity in traditional reach stackers is limited by certain technical conditions. The main one is the maximum permissible load on the axle/wheels in front of the stacker. To increase the lifting capacity of the pick and carry machine, we replaced the front axle with a system of gearboxes driven by the hydrostatic system, and mounted large tires. This result allowed us to lift up to 250 ton, and move the load with speed of 5/7 km/h. The traction wheels are managed by a hydraulic differential system, so the speed may vary independently, depending on the traction of the machine if linear or steering. Always ensuring the grip of the wheels, the reduction of wheel and fuel consumption.
---
Overall view
Comfortable cabin with wide visibility, control display and joystick